DEAR UKRAINIAN COLLEAGUES,
Dear beekeepers worldwide,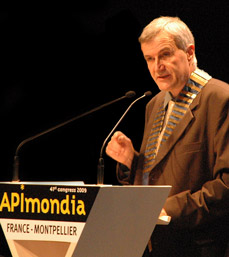 Having an honour to lead Apimondia, the International Federation of Beekeepers' Associations from 2009, I would like to underline the importance of the International Apimondia Congress to be held in Kyiv from September 29 till October 4, 2013 for the Apimondia Federation.
I have great memories of my visits to Ukraine in 2009 and 2011. Even despite of that fact that it was the 111th country I had visited during my traveling over the beekeeping world and it had left a deep and lasting impression on me . Unique beekeeping culture and traditions together with the great commercial and scientific potential of the beekeeping industry put Ukraine next to the most important beekeeping nations
However, Ukrainian beekeeping industry was rather unknown to the international community. Only in the last five years, thanks to efficient efforts of the NGO "Brotherhood of Ukrainian Beekeepers" Apimondia Federation and beekeeper's community had an opportunity to discover the great and unique Ukrainian Honeyland.
Apimondia is holding the International Apicultural Congresses since 1895, along with numerous conferences and symposiums around the world. For more than a century a scope of these activities went far beyond the narrow beekeeping subjects. We believe that our work helps to accelerate cultural and scientific exchange among nations, establish effective and mutual cooperation between businesses, researchers and NGOs and to promote the harmony between man and nature.
International Apimondia Congress held in Kyiv is going to be an important event for Ukraine to strengthen its image as a global business and scientific partner, to establish new economic and cultural relations and to present Ukraine as an important part of European agriculture, food and pharmaceutical industries. Today Apimondia is experiencing important changes that will be implemented on the XXXXIII International Apimondia Congress. The forward-looking theme of the Scientific Conference – Beyond the Hive: Beekeeping and Global Challenges that has an aim to strengthen our cooperation with the United Nations. The historic act of recognizing of the western honey bees or European honey bees (Apis mellifera) as the species under threat of extinction is also going to be signed in Kyiv.
Apimondia, the International Federation of Beekeepers' Associations is supporting the Organizing Committee of the XXXXIII International Apimondia Congress in this important historical mission of preparation and holding the Apimondia Congress in Ukraine. The Executive Commission of the Apimondia Federation as a part of the Organizing Committee performs its functions fully for the future development of the Congress and beekeeping industry in Ukraine and worldwide.
Gilles Ratia
The President of Apimondia Federation